This program, jointly conducted by Curtin University (Australia), and SEAMEO RETRAC (Vietnam), in accordance with the Permission No. 3539/QĐ-BGDĐT, issued on July 13, 2006 by the Vietnam's Ministry of Education and Training, is designed for professionals in the field of language teaching. The program concentrates on teaching English as an additional Language (EAL) and also considers issues connected with EAL teaching in Vietnam and the region. The course is designed for teachers intending to work in Vietnam, other countries in Asia and all over the world.
COURSE OBJECTIVES
Graduates of this program demonstrate the attributes set out below:
Generic Attribute:
Applying discipline knowledge, principles, and concepts
Thinking critically, creatively, and reflectively
Accessing, evaluating, and synthesizing information
Communicating effectively
Using technologies appropriately
Utilizing lifelong learning skills
Recognizing and applying international perspectives
Demonstrating cultural awareness and understanding
Applying professional skills.
MODE OF DELIVERY
The course will be delivered at SEAMEO RETRAC in a semi-distance education mode, i.e. face-to-face workshop delivered at the beginning of each unit including online tutorial support. The course can be completed within one and a half calendar years.
There will be a total of four workshops covering the content of eight taught units, as outlined below. For each of the four workshops, one lecturer from Curtin and one lecturer from SEAMEO RETRAC will deliver the taught units and provide sustained guidance to the participants.
ENTRY & ADMISSION REQUIREMENTS
1.To be eligible for entry to the program an applicant is required to have:
An education/teaching degree assessed as being the equivalent of a full-time four-year Australian degree (normally a Bachelor of Education or a four-year combined/double education degree, OR
A bachelor degree of at least three years full-time equivalent and either a Graduate Diploma in Education or Master of Teaching or equivalent, OR
A bachelor degree of at least three years full time equivalent and a Graduate Certificate in TESOL or equivalent, OR
A bachelor degree of at least three years full-time equivalent and CELTA (Certificate of English Language Teaching to Adults) or equivalent, OR
A bachelor degree of at least three years full-time equivalent in a related discipline and at least two years' full-time documented language teaching experience in the last ten years, OR
An honours or master's degree in a related discipline.
Subject to Review: All applicants will be expected to have achieved an average of 70% (3.5 GPA) or above, or equivalent, in their most recently completed tertiary course.  Where this cannot be shown, there will need to be documented evidence of at least two years' full time English language teaching experience in the last ten years.
2.In addition to the above, all applicants must meet Curtin's minimum English Language requirements:
IELTS Academic overall score of 6.5 with a minimum of 6.0 on all bands, OR
Other equivalent qualifications approved in writing by CURTIN.
Note: English Test results are valid for two years from the date of testing.
3.As part of the application process all applicants are required to follow Curtin's admission and enrolment processes and provide the following supporting documentation:
Previous qualifications (academic transcripts, grading system descriptions, and award certificates)
Evidence of English language proficiency (Academic IELTS results, TOEFL results or other recognized English test results)
Supplementary information (as applicable; CV, Letter of Employment)
A copy of personal identification (passport).
Note: All documents must be received in accordance with Curtin's Scanned Documents and Certification Requirements and Guidelines.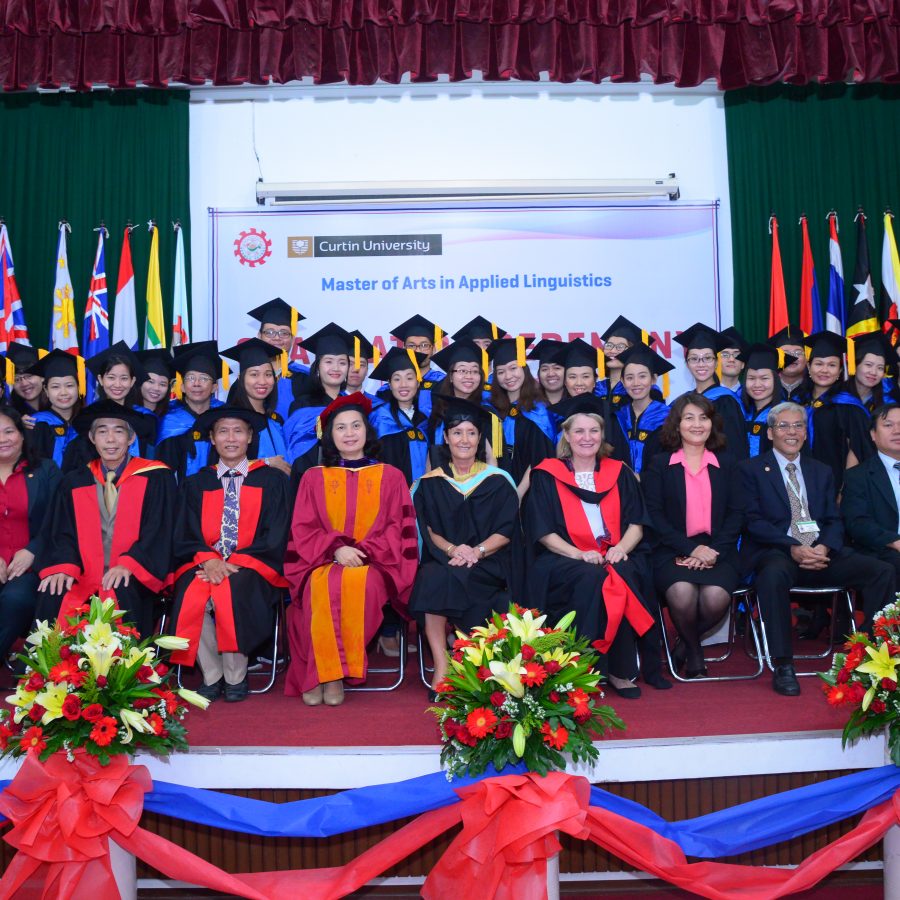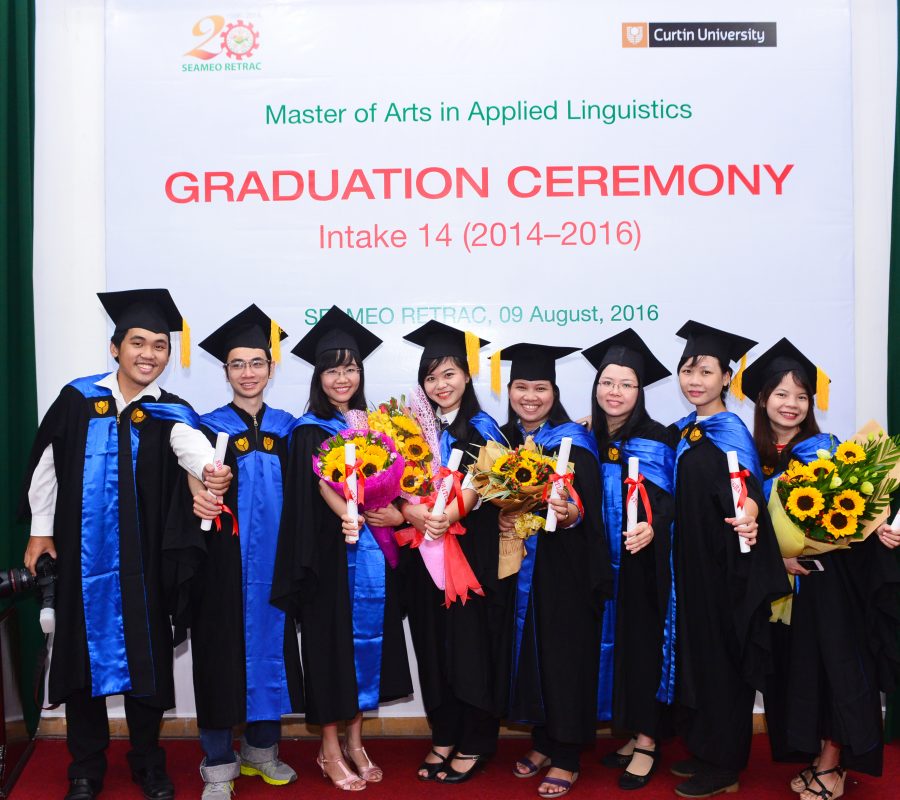 TUITION FEE & DEGREE
TUITION FEE
Student tuition fees will be paid to the program's bank account (in VND) prior to the commencement of each Trimester.
DEGREE
Participants who successfully complete the program will be awarded the Curtin University Master of Arts (Applied Linguistics).
Note: Assessments for onshore and offshore Curtin University courses are identical and the award is the same.
Curtin University
Prof. Rhonda Oliver
Dr. Toni Dobinson
Dr. Paul Mercieca
A. Prof. Craig Lambert
SEAMEO RETRAC
Dr. Ho Thanh My Phuong
Dr. Dang Van Hung
Dr. Do Thi Hoai Thu
Dr. Nguyen Dinh Thu
Program Directors
A. Prof. Anna Parkin, Dean, International and Strategic Partnerships, Curtin University
Dr. Ho Thanh My Phuong, Director, SEAMEO RETRAC
Program Coordinators
Dr. Toni Dobinson, School of Education, Curtin University
Dr. Dang Van Hung, SEAMEO RETRAC
For further information, please contact:
Dr. Nguyen Thi Thuy Trang, Deputy Dean
Division of Foreign Studies
Phone: (84 28) 38245 618 (ext. 117)
Email: ntttrang@vnseameo.org
SEAMEO Regional Training Center in Vietnam
35 Le Thanh Ton street, District 1, Ho Chi Minh City, Vietnam
Fax: (84 28) 38232 175
| | | |
| --- | --- | --- |
| Date | Description | Party-in-charge |
| March 2018 | Commencing the enrollment of Intake 17 | SEAMEO RETRAC |
| opens 20 August 2018 | Applications for Admission; All documents emailed for assessment | Curtin & SEAMEO RETRAC |
| from 28 August 2018 | Offer letters issued (up to 7 working days after submission) | Curtin & SEAMEO RETRAC |
| by 01 October 2018 | Acceptance, tuition paid & enrollment submitted |  Curtin & SEAMEO RETRAC |
| 05 November 2018 | Commencing Trimester 3A, 2018 & Workshop 1 |  SEAMEO RETRAC |
Students will complete and pass the 200 credit points by completing approved Curtin units through a blended learning format of online and onsite delivery.
The 200 Curtin credit points (The Course) consist of the following units:
MC-APLING – Master of Arts (Applied Linguistics)
Unit Code
Unit Name
Credits
LING6001
Language in Society
25
EDUC6041
Research Methods in Applied Linguistics
25
LING6000
Language Acquisition
25
EDUC6025
Language Teaching Methodologies
25
EDUC6040
Special Topics in Applied Linguistics
25
EDUC6027
Language Teaching Course Design and Assessment
25
EDUC6015
Negotiated Research Project
50
200
All Units in the Curtin Master of Arts (Applied Linguistics) will be delivered in English.
The Program of study comprises of four (4) Study Periods totaling 200 credits. Three Study Periods will be offered per calendar year (Trimester 1A, 2A and 3A).