This program, jointly conducted by Curtin University (Australia), and SEAMEO RETRAC (Vietnam), in accordance with the Permission No. 3539/QĐ-BGDĐT, issued on July 13, 2006 by the Vietnam's Ministry of Education and Training, is designed for professionals in the field of language teaching. The program concentrates on teaching English as an additional Language (EAL) and also considers issues connected with EAL teaching in Vietnam and the region. The course is designed for teachers intending to work in Vietnam, other countries in Asia and all over the world.
COURSE OUTCOMES
A graduate of this course can:
understand the theoretical principles and research practices underlying contemporary language education and Applied Linguistics and apply them in a sustainable manner;
formulate and investigate problems, propose solutions to current practices, and reflect critically on the relevant empirical and theoretical literature;
identify, access, analyse and synthesise information from a wide range of sources using appropriate technologies;
communicate information and ideas effectively in speech and writing in ways that are appropriate for a range of audiences;
engage effectively with appropriate technologies to store and communicate relevant information in conjunction with contemporary language education and Applied Linguistics practices;
demonstrate capacity for independent self-directed learning; critically evaluate personal performance through a range of learning interactions; respond to feedback with a view to development as a reflective practitioner and lifelong learner;
consider language education, Applied Linguistics and professional issues from a variety of perspectives and value-systems with a view to informing and improving professional practice and applying international standards;
appreciate the value of individual and cultural differences in language use and learning, and the important implications they have for effective practice and professionalism in the workplace;
work both independently and as part of a team in a way that demonstrates professionalism, a commitment to social and ethical practices and the capacity for future leadership in the field of language education and Applied Linguistics.
COURSE STRUCTURE
The Program is delivered in English and comprises of four (4) study periods totaling 200 credits;
Course duration 1.5 years;
Three (3) study periods offered per year (Feb, July and Nov);
Units taught by SEAMEO will include (1) face-to-face workshop (min 14 hours) and online support;
Units taught by Curtin will be fully online OR similar to SEAMEO once travel restrictions are lifted.
ACADEMIC ENTRY REQUIREMENTS
To be eligible for entry to the program conducted through SEAMEO RETRAC an applicant is required to have:
An education/teaching degree assessed as being the equivalent of a full-time four-year Australian degree (normally a Bachelor of Education or a four-year combined/double education degree, OR
A bachelor degree of at least three years full-time equivalent and either a Graduate Diploma in Education or Master of Teaching or equivalent, OR
A bachelor degree of at least three years full time equivalent and a Graduate Certificate in TESOL or equivalent, OR
A bachelor degree of at least three years full-time equivalent and CELTA (Certificate of English Language Teaching to Adults) or equivalent, OR
An honours or masters degree.

Disclaimer

: Qualifications will be subject to MOET accreditation and may be changed.
ENGLISH LANGUAGE ENTRY REQUIREMENTS
IELTS Academic overall score of 6.5 with a minimum of 6.0 on all bands (If graduates are intending to apply for their Master of Arts (Applied Linguistics) to be accredited with the Ministry of Education Vietnam, they will need to possess an IELTS overall band score of 7.0 as per MOET requirements), OR
Other equivalent qualifications approved in writing by CURTIN.
Note: English Test results are valid for two years from the date of testing. 
APPLICATION ENTRY REQUIREMENTS
As part of the application process all applicants are required to follow CURTIN's admission and enrolment processes and provide the following supporting documentation:
Previous qualifications (academic transcripts, grading system descriptions, and award certificates in the original issued language and English translation)
Evidence of English language proficiency (IELTS, TOEFL or other recognised English test results
Provide supplementary information (including but not limited to CV, Letter from Employment to support teaching experience)
Copy of personal identification (passport).
Note: All documents must be received in accordance with Curtin's Scanned Documents and Certification Requirements and Guidelines.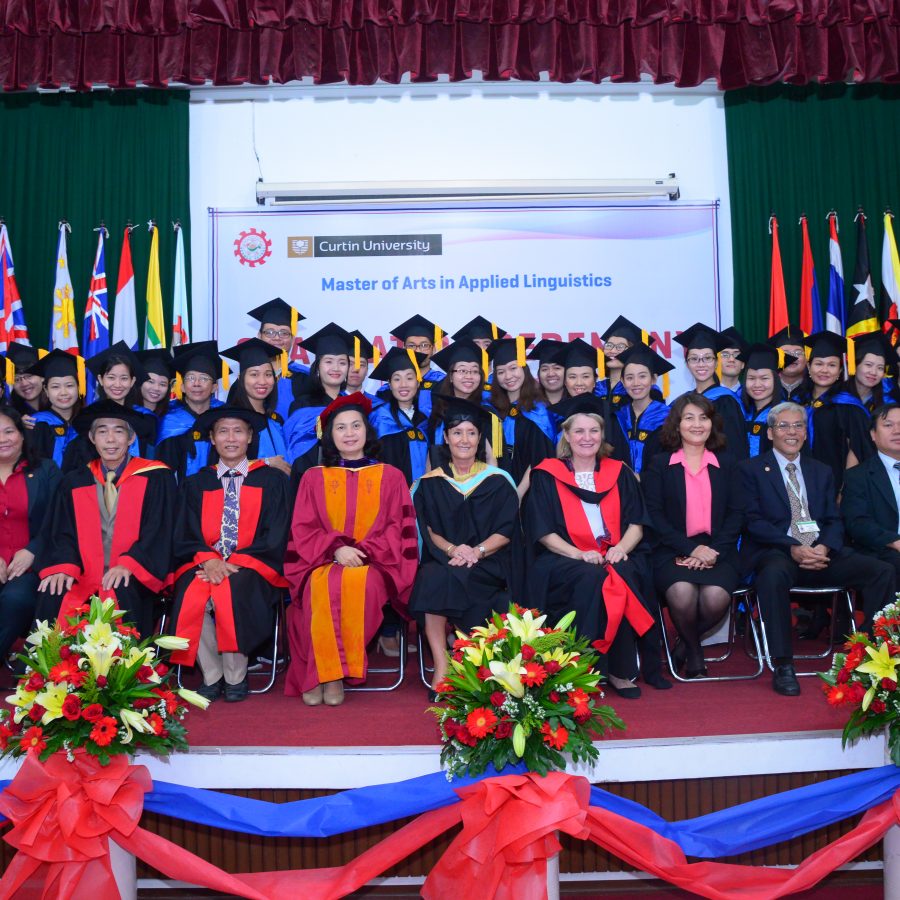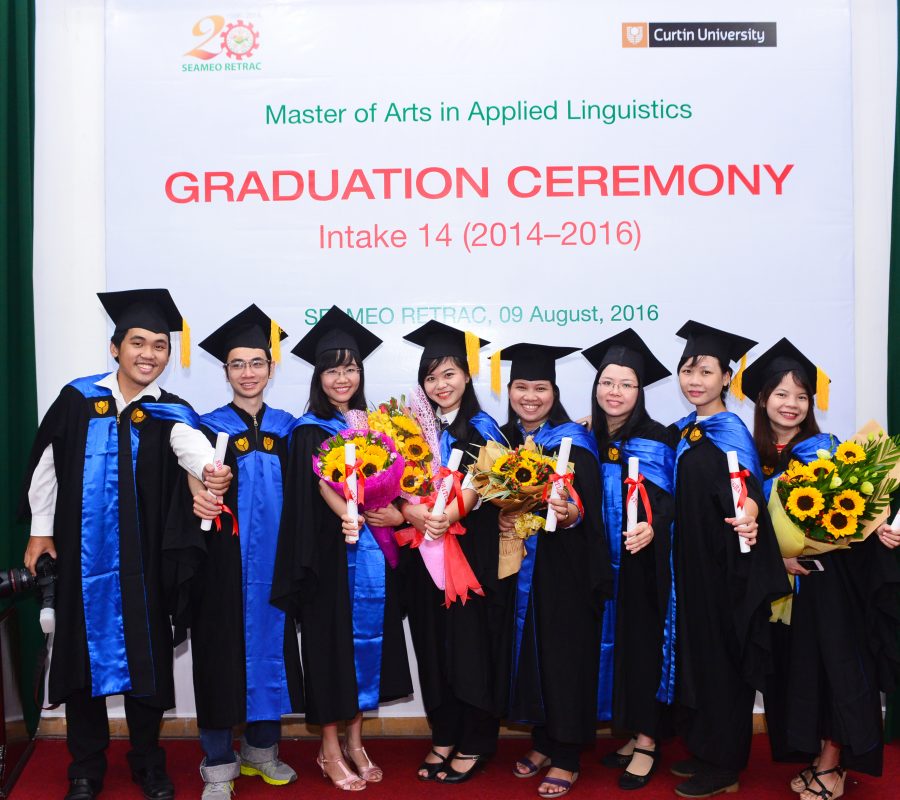 TUITION FEE & DEGREE
TUITION FEE
Student tuition fees will be paid to the program's bank account (in VND, equivalent to the quoted fees in AUD) prior to the commencement of each Trimester.
DEGREE
Participants who successfully complete the program will be awarded the Curtin University Master of Arts (Applied Linguistics).
Note: Assessments for onshore and offshore Curtin University courses are identical and the award is the same.
Curtin University
Prof. Rod Ellis
Prof. Rhonda Oliver
A/Prof. Craig Lambert
Dr. Toni Dobinson
Dr. Paul Mercieca
Dr. Julian Chen
SEAMEO RETRAC
Dr. Ho Thanh My Phuong
Dr. Do Thi Hoai Thu
Dr. Bui Thi Thuc Quyen
Dr. Nguyen Thi Thuy Trang
Program Directors
Professor Rhonda Oliver, Head, School of Education, Faculty of Humanities, Curtin University
Dr. Ho Thanh My Phuong, Director, SEAMEO RETRAC
Program Coordinators
Dr. Toni Dobinson, School of Education, Curtin University
Dr. Nguyen Thi Thuy Trang, SEAMEO RETRAC
For further information, please contact:
Ms. Vo Thi Hong Tram
SEAMEO Regional Training Center in Vietnam
35 Le Thanh Ton street, District 1, Ho Chi Minh City, Vietnam
Phone: (84 28) 38245 618 (ext. 309)
Email: macurtin@vnseameo.org
Deadline Date

Description

01/2022

2022 Recruitment Open – Intake 21

04/2022

Open – Online application for admission
(All supporting documents submitted with online submission)

05-06/2022

Offer letters issued
(up to 5 working days after submission)

30/06/2022

Closed – Online application for admission

06-07/2022

Due: Acceptance, Enrolment & Tuition Fee for Trimester 2A

07/2022

Start – Trimester 2A, 2022

11/2022

Workshop 2 (1st week) – TBC

03/2023

Workshop 3 (2nd week) – TBC

07/2023

Workshop 4 (2nd week) – TBC
Students will complete and pass the 200 credit points by completing approved Curtin units through a blended learning format of online and onsite delivery.
The 200 Curtin credit points (The Course) consist of the following units:
MC-APLING – Master of Arts (Applied Linguistics)
Unit Code
Unit Name
Credits
LING6001
Language in Society
25
EDUC6041
Research Methods in Applied Linguistics
25
LING6000
Language Acquisition
25
EDUC6025
Language Teaching Methodologies
25
EDUC6040
Special Topics in Applied Linguistics
25
EDUC6027
Language Teaching Course Design and Assessment
25
EDUC6015

Negotiated Capstone Project

50
200
All Units in the Curtin Master of Arts (Applied Linguistics) will be delivered in English.
The Program of study comprises of four (4) Study Periods totaling 200 credits. Three Study Periods will be offered per calendar year (Trimester 1A, 2A and 3A).