36th SEAMEO High Officials Meeting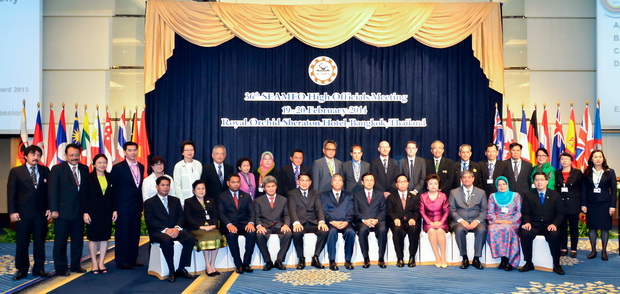 The 36th SEAMEO High Officials Meeting (HOM) was convened at the Sheraton Orchid Royal (Bangkok, Thailand) from February 18-20, 2014 with the participation of more than a hundred and fifty education high officials and representatives from the 11 SEAMEO Member Countries, Associate and Affiliate Members, and other international organizations such as: Ministry of Education, Culture, Sport, Science and Technology (MEXT), Japan; Ministry of Education, Republic of Korea, Asian Development Bank (ADB); ASEAN Secretariat; ASEAN University Network (AUN); Organization of Ibero-American States; UNESCO Bangkok; USAID/RDMA; etc.
Mr. Tran Ba Viet Dzung, Director General, International Cooperation Department, MOET Vietnam, chaired the meeting. At the plenary session, high officials and the delegation discussed and updated the meeting with educational issues on education for all and collaborative projects. Also in this important meeting, SEAMEO Lead Countries reported updates on the progress of the implementation of the 10 collaborative projects that aimed to reach the unreached population groups in Southeast Asia in support of achieving the Education for All (EFA) goals. The meeting also announced the date and action plans for the implementation of SEAMEO Congress in 2014.