12th Governing Board Meeting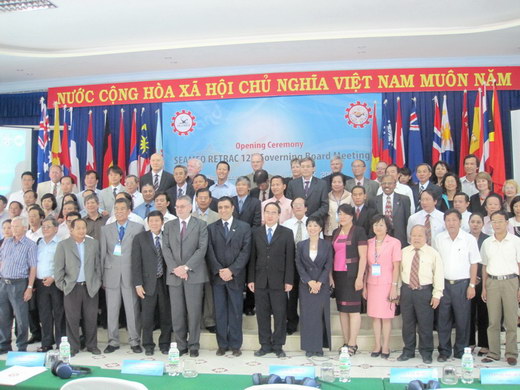 The 12th SEAMEO RETRAC Governing Board Meeting was convened from August 10-13 at Nha Trang University and officiated by HE Prof. Dr. Nguyen Thien Nhan, Deputy Prime Minister and Minister of Education and Training. Attending the meeting were members coming from 10 Southeast Asian countries.
In his opening remarks, HE Nguyen Thien Nhan congratulated on the Center's continued achievements for the past year, and re-emphasized the three major tasks MOET has assigned to SEAMEO RETRAC: (1) delivery of the pre-academic programs for government scholarship recipients, (2) training in educational leadership and management for Vietnamese educators and administrators, and (3) active involvement in the national project on English education for the whole education system for 2009-2020 or English 2020. 
At the meeting, Dr. Ho Thanh My Phuong, Dean, Division of Education of SEAMEO RETRAC presented a brief report on the main issues raised and approved at the Center Directors Meeting held in Bangkok, Thailand on August 3 – 6. Also, the Board approved SEAMEO RETRAC annual report, financial report FY 2008 – 2009 and three-year budget plan 2010 – 2012. In addition, the Governing Board contributed their opinions to the Center's long-term development plan. The meeting ended with the agreement that SEAMEO RETRAC 13th Governing Board Meeting will be convened in August of 2010 in Vientiane, Lao PDR.