English Examiners Training Workshop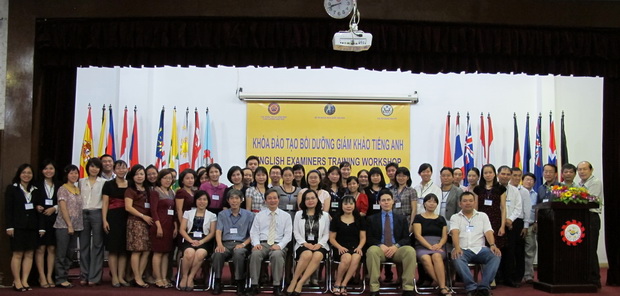 On December 3 to 7, 2012 an English examiners training workshop was jointly organized by SEAMEO RETRAC and the Vietnam's National Foreign Languages 2020 Project (NFL 2020 Project) at the Center's headquarter, 35 Le Thanh Ton Street, District 1, Ho Chi Minh City.
Forty six selected lecturers from 5 universities in the southern part of Vietnam and SEAMEO RETRAC participated in the workshop. The five-day course aimed to train English speaking and writing examiners for the NFL 2020 Project. During the workshop, the participants had a chance to learn about the Common European Framework of Reference (CEFR), and to practice assessing English speaking abilities and rating English writing papers. The workshop was facilitated by Assoc. Prof. Carr Nathan, Assoc. Prof. Nguyen Phuong Nga, Dr. Vu Thi Phuong Anh and Dr. To Thu Huong.