Forum on Educational Innovation for an ASEAN Integration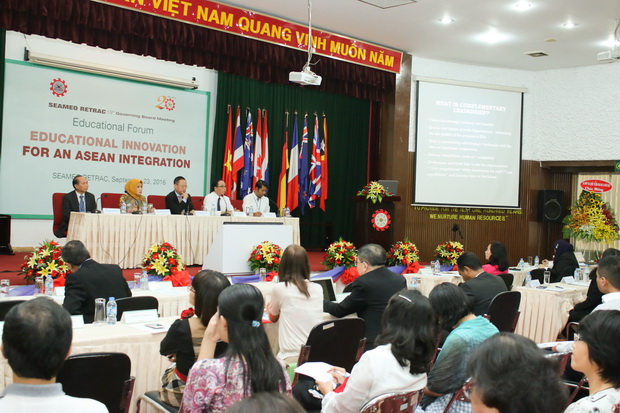 SEAMEO RETRAC successfully conducted the Educational Forum, namely "Educational Innovation for the ASEAN Integration" on September 23, 2016, at its premises in Ho Chi Minh City, Vietnam.
The Forum was held back to back with the Center's 19th Governing Board Meeting and served as a platform for the exchange and discussion of ideas and experiences in relation to ASEAN Integration in Education, Educational Innovation and Strategies, Teacher Education and Preparation.
Presenting at the Forum were SEAMEO RETRAC's Governing Board Members from Brunei Darussalam, Cambodia, Indonesia, Singapore, Thailand, Timor Leste, Vietnam, and SEAMEO Secretariat.Participants included more than 40 administrators, educators, academic staff and lecturers from universities, colleges and high schools in Ho Chi Minh City and surrounding provinces. The participants took this opportunity for sharing their viewpoints and experiences in education for ASEAN integration.