SEAMEO Center Directors Meeting (CDM) 2013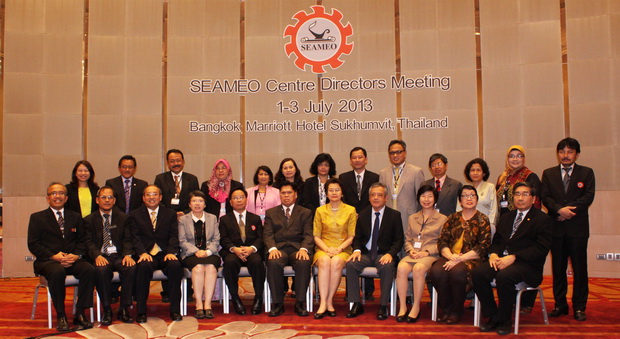 The annual SEAMEO Center Directors Meeting took place on July 01-03, 2013 at Bangkok Marriot Sukhumvit Hotel, Thailand with the purpose to review the organization's operation within FY 2011/2012.
The meeting was attended by more than 80 participants including the Center Directors and key staffs of SEAMEO Centers and the Secretariat, representatives of Associate and Affiliate Members, and invited partners such as: the Ministry of Education, Culture, Sport, Science and Technology, Japan; Asian Development Bank; UNESCO Bangkok; ASEAN-China Center; University of Tsukuba; etc.In the special session, the SEAMEO Center Directors re-visited the SEAMEO Strategic Plan as well as figured out the bottlenecks and challenges in the implementation of SEAMEO Initiatives. The session was followed by the Centers' reports and updates on major accomplishments, proposals and matters for acknowledgments. Furthermore, the collaborative and networking session with invited partners came to the end with new projects firmed up and new areas of collaboration with potential partners defined.Alongside with in-depth discussion and evaluation of key issues, the SEAMEO College Project Management Committee Meeting was also carried out. As a member of the Project Management Board, Dr. Ho Thanh My Phuong, SEAMEO RETRAC Director presented a detailed proposal and an action plan to implement one of the Project's modules.