The 37th SEAMEO High Officials Meeting (HOM)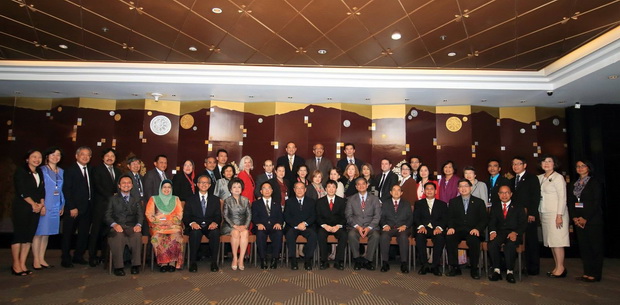 The 37th SEAMEO High Officials Meeting (HOM) was convened at the Plaza Athénée Bangkok, Thailand from November 26-27, 2014 with the participation of more than a hundred and fifty education high officials and representatives from the 11 SEAMEO Member Countries, Associate and Affiliate Members, and other international organizations such as: Ministry of Education, Culture, Sport, Science and Technology (MEXT), Japan; Asian Development Bank (ADB); ASEAN Secretariat; ASEAN University Network (AUN); UNESCO Bangkok; China Education Association for International Exchange (CEAIE); UNICEF-East Asia Pacific Regional Office; etc.
During the plenary session, high officials and the delegation discussed and updated the meeting with the implementation of the collaborative projects and selected initiatives under the SEAMEO Strategic Plan (2011-2020) between SEAMEO Secretariat, SEAMEO Centers and key partners. The success of the SEAMEO Congress on Education, Science and Culture was one case in point.
Also in this session, the Secretariat, on behalf of the Lead Centers reported and updated the high officials the progress of the implementation of SEAMEO College Project in which SEAMEO RETRAC has successfully conducted Module 3 on "Education Leaders' Innovation Forum" (ELIF). Besides, lots of activities have been planned and proposed from all the Centers to commemorate the 50th SEAMEO Anniversary Celebration. The meeting also announced the tentative date for the 48th SEAMEO Council Conference.